Esports Gambling Grows To New Heights In 2021
Esports has had a meteoric rise in the last decade, transitioning from a niche pastime to an economic powerhouse. Game market statisticians, Newzoo, have predicted in their annual report that revenue for the esports industry will increase to $1.08 billion in 2021 —a 14.5% increase in revenue from 2020. These are impressive numbers, and with Statista predicting a viewership of approximately 577.3 million by 2024, the amount of gamers discovering esports as a source of revenue for themselves –via esports gambling sites– is increasing as well. In 2019, Eilers & Krejcik's sports betting report showed that 27% of bettors were not only gambling on sports and other mainstream events, but on esports events as well.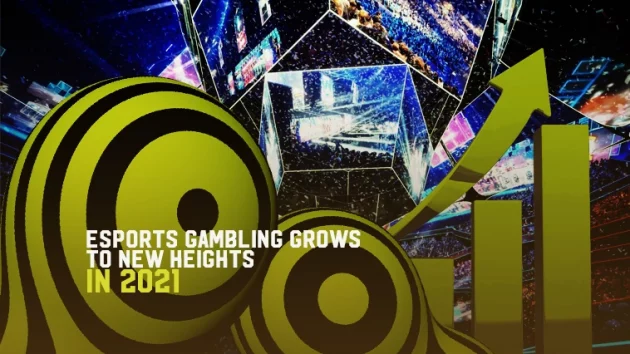 Popular Games For Esports Gambling
One of the exciting things for gamers looking to get into esports betting, is the vast number of games they can bet on. This includes a multitude of different genres, from first person shooter titles like CS:GO and Call of Duty, to real-time strategy games like Starcraft 1 and 2.
If you're looking for the most popular game for esports betting, it is Riot's League of Legends. This will be unsurprising to many, as LOL has been a dominant force in gaming for some time now.
CS:GO is reasonably close behind, while Valve's MOBA, Dota 2, sits in the third place spot. Starcraft 2 also makes an appearance in the top 5, an impressive feat for a game released in 2010.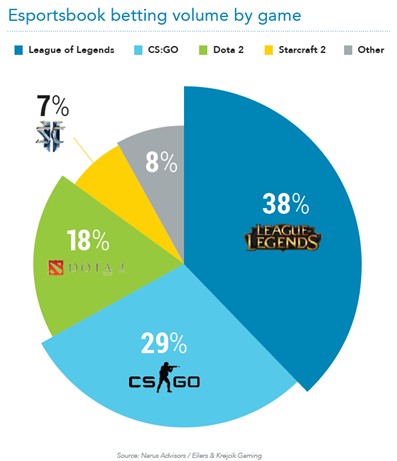 Types Of Esports Gambling
Betting on esports is all about variety. There are a ton of different games, markets and betting types to choose from, and they all offer different things for a discerning bettor.
Fantasy Esports
Fantasy esports operates in much the same way as fantasy sports betting does: you choose a team of the best esports players out there and you try to earn the most fantasy points you can with that team. As with fantasy sports, the site running the fantasy league will have a salary cap that you have to keep your team within, in order to keep people from scoring all the best players at once.
There are a huge number of websites that offer fantasy esports, with more popping up as esports betting develops into a larger market.
Draftkings
The best-known site for fantasy esports is probably Draftkings, a website famous for its fantasy sports and global appeal. Draftkings offers fantasy League of Legends, CS:GO, Rocket League, and Call of Duty, and have a good deal of fantasy league options. These include options that allow the top 10% of players to earn money for their team's performance in a fantasy league for instance, meaning more people can get a payout for playing.
Esport Fantasy
Esport Fantasy is a dedicated esports fantasy league website, with leagues for Dota 2, CS:GO and League of Legends. It has some nice features, such as a leader board, private leagues, and prize packages including cash and other assorted gaming gear.
Fantasy Esports
If you're looking for Overwatch fantasy league options, then Fantasy Esports has you covered. They also offer leagues for Dota 2 and League of Legends, along with Counter Strike: Global Offensive. By winning a league, you can earn prize packs of gaming apparel and peripherals, such as keyboards and mice.
Fantasy Esports One
Fantasy Esports One does a great job with fantasy esports. They have an interesting website mechanic where players can earn prizes by completing weekly challenges, such as scoring 300 points in the week. There are global leader boards, but there is also a high focus on private leagues with friends, which is often the best way to play fantasy leagues.
The Skins Market
Many esports betting websites revolve around simple cash betting, but others also offer the ability to bet your in-game skins for skins of equal or higher value. Although skins in video games don't strictly offer any performance increase, the ability to show off your high value skins is evidently enough to get people gambling.
The skin market has shown a huge amount of growth over recent years, in large part due to individual skin's value on the Steam marketplace, with Counterstrike: Global Offensive and Dota 2 having booming markets for in-game skins. One skin for the Ak-47 in CS:GO was sold for an insane $150k USD, and the amount of value sitting in people's inventory is staggering.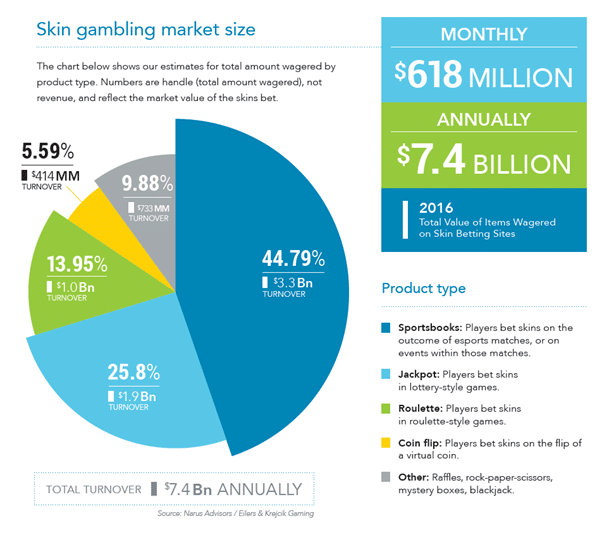 Top Esports Gambling Sites for Skins and Cash
Variety is a huge reason why esports betting is so exciting, and the huge array of websites that offer a mixture of skins betting and cash betting means that you always have a place to put some money down. Here are some of the best esports betting sites out there at the moment:
ArcaneBet
If you are looking for a dedicated esports website with good odds, then Arcanebet has you covered. They have a user-friendly website that offers traditional sports and a wide variety of in-game markets for a bunch of popular esports titles. You can also use your CS:GO skins as a payment option on certain bets on the site, which is a really unique feature!
Pinnacle
Pinnacle offers an incredibly easy platform from which to cast your bets, and they also offer higher-than-average odds compared to other esports betting sites. As an early pioneer of esports betting, starting back in 2010, they are certainly one of the most trustworthy betting sites, and they often do giveaways of CS:GO skins and other fun prizes!
Skinbet
If you are looking for a dedicated skin-betting website for CS:GO then look no further than Skinbet! You can deposit actual funds using BTC or Paypal, or you can simply bet your actual skins in order to win superior ones. They also have an affiliate program which you can use to earn money by inviting your friends to bet on their site.
Finding The Best Esports Gambling Sites
Esports betting can be complex. There are a variety of different games to bet on, many specific markets for each of those games, and different types of betting on top of that. Luckily, there are a lot of websites that offer information that can help you bet more intelligently. For instance, you can see a collection of guides and betting odds if you visit our best esports betting sites for 2022 page. Doing some research on every esports gambling site can give you a great deal of insight into how to place your bets and which websites offer the best odds and features, and can be worth looking into if you are struggling to figure out what your best options are.
Esports Gambling in 2021
Esports gambling has moved forward a huge amount over the last 10 years, and we are starting to see a massive influx of new bettors looking to get into the scene. With betting websites offering sponsorships for esports teams and Twitch streamers, and putting money back into the scene with large tournaments, we are starting to see the industry become a strong economic ecosystem. For individual bettors, this means that they are getting better and safer betting sites and a wider variety of esports betting options to play with, which can only be a good thing!