Pinnacle Esports Betting
Review 2022
Pinnacle Esports (formerly Pinnacle Sports) is an online esports betting website that was founded in 1998. They are located in Curacao, a constituent country of the Netherlands, located in the Caribbean. Pinnacle has customers from over 100 countries and offers a large variety of sports and esports to bet on. They were one of the early pioneers of esports betting, offering wagers on competitive online gaming as early as 2010.
Is Pinnacle Esports Legal? Pinnacle's Legality And License
Pinnacle is fully licensed in the Netherlands Antilles region and complies with its laws and regulations regarding gambling and betting. They have also been issued a Class II Remote Gaming License by the Malta Gaming Authority, allowing them to provide remote (fixed-odds) betting for sports and esports. Another factor that proves that Pinnacle Esports is legit is looking at their past sponsorships. One of the most noticeable sponsorships would be when they were named the first sponsor for the CS:GO Flashpoint League and their sponsorships to the disbanded North CS:GO roster and Brazilian CS:GO team Santos Esports.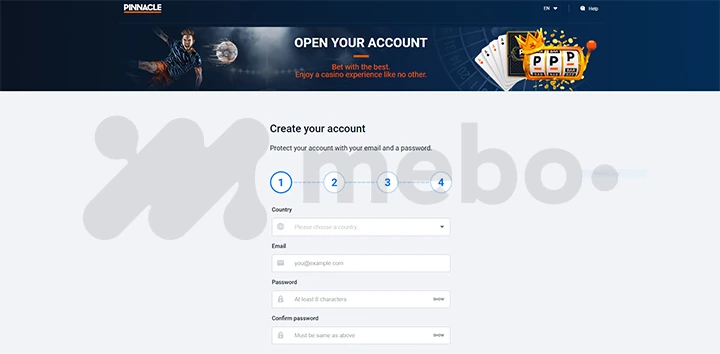 Games You Can Bet On At Pinnacle Esports
Pinnacle offers a reasonably wide selection of esports titles to bet on. They were early entrants into esports, offering esports betting odds on various competitive games. Pinnacle offers betting on most of the major competitive games such as League of Legends, CS: GO, and Dota2, along with Overwatch and Hearthstone. Pinnacle Esports also offer odds on more minor games like Warcraft 3 and World of Tanks for bettors with more niche interests. One should also note that Pinnacle Esports has its own hub on Pinnacle, and all of these games can be accessed easily through it. Pinnacle also allows you to bet on various tournaments throughout the year, not just the major events for any given game.
Complete List Of Games You Can Bet On At Pinnacle Esports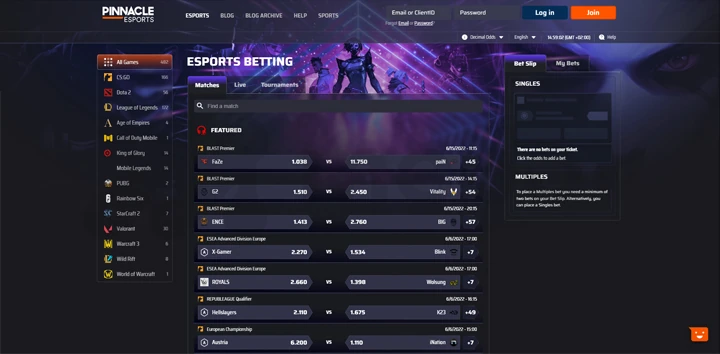 In-Play Offerings And Betting Markets Available on Pinnacle Esports
Pinnacle offers live betting as one of its major betting options, and their website suggests that it is one of their most popular features. You can make wagers via their website online (they have both a desktop version and a mobile version). The site also offers tutorials that can help you figure out their live-betting system. If you are looking for games to live-bet on, the Pinnacle Esports website has a notification feature which indicates live odds before a match begins, so look out for that if you are looking to bet.
Types Of Wagers Available Via In-Play Betting At Pinnacle
Single Bets
Sides
Totals
Moneylines
Asian Handicaps
Prop/Special Bets
Futures/Ante-Post
Parlays
Accumulators
Multi-Ways
Teasers
Buying and Selling Points.
Pinnacle's Payment Methods
One of the best things about Pinnacle Esports is that it offers a large number of payment options, from Bitcoin and standard internet banking to Visa and Mastercard payments. Having a wide variety of payment options is always useful for bettors who have money across multiple accounts or simply to allow people who only use one specific payment method to enjoy Pinnacle's betting options. It should be noted that Pinnacle allows you to use currencies such as Swedish Krona and United States Dollar, despite betting not being available in those countries, so if you want to deposit money using those currencies, you still can.
Complete List Of Payment Options Offered By Pinnacle
Pinnacle Esports' Customer Support
The main form of support Pinnacle offers is through 24/7 live chat. Pinnacle Esports' customer support is available seven days a week and is generally reasonably responsive, allowing you to connect to someone and sort out your issue with relative ease. They also offer email support, but this is obviously a slower method and requires more back and forth to resolve your problem. Live chat is usually the better option in terms of speed. The email support is 24 hours as well, and response times aren't usually too long, so if you have a less pressing concern and don't want to sit on live chat for a long time, email is a decent option. These seem to be the only two options Pinnacle Esports offers for customer support. The addition of some different methods, such as a Discord server or even Twitter, could resolve issues faster. Pinnacle Sportbooks' esports section has a fairly comprehensive help section, which could be helpful for people new to esports betting or for those with some minor issues that need immediate resolution.
Support Methods Available
Social Media Accounts
Is Pinnacle Available In My Country?
Pinnacle is available in a wide range of countries worldwide (over 100, according to them), but one of its significant drawbacks is its lack of availability in some significant nations. The United States and the United Kingdom are perhaps the most notable omissions, along with Germany, Sweden, Spain and Denmark being unavailable. Pinnacle stopped offering betting from the USA in 2007, after the passing of the Unlawful Internet Gambling Enforcement Act of 2006. They stated that:
When the U.S. focuses on something and says 'Enough,' and when they go to war, no individual company can possibly win in a fight of this nature.

Pinnacle
This statement came after they voluntarily ceased all betting from the USA on their website, thus losing close to 60% of their customer base. If you are in the US, you still cannot bet on their website, although US currency is still accepted for deposits.
Pinnacle Esports Bonuses & Promotional Offers
Currently, Pinnacle offers no bonuses or promotions. This is a reasonably glaring oversight, as most other betting websites and apps use advertisements and promotions to draw customers in and get them invested in their products. Surprisingly, a betting website of this scale does not offer promotions, especially since they offer promotions for casino play. If you intend to use Pinnacle's online casino, you will receive a 0.3% cashback on all of your online casino wagers. Cashback is processed instantly after each wager, so you can see this promotion is in effect in real-time, which is nice. The reason Pinnacle offers no welcome bonus or other promotions may be that they have relatively high betting odds compared to other esports betting sites. Whether this makes up for it or not will be up to the bettors, and the lack of a welcome bonus may make potential customers less inclined to use Pinnacle's site for betting purposes.
Pinnacle Mobile Application – Android & iOS
At the time of writing, Pinnacle Esports does not seem to have a dedicated Android or iOS mobile application. Some other sites out there claim that they do; however, after doing rigorous research, this application is nowhere to be found. Pinnacle does offer, however, a mobile-friendly version called Pinnacle Lite. It's one of the smoothest mobile versions that we have seen, and if you access the website from a mobile device, you will be automatically redirected to the mobile version.
Does Pinnacle Offer Traditional Sportsbook And Casino?
The short answer to both of those questions is yes. Being one of the first virtual betting operators, Pinnacle amassed quite the collection of casino games that one can play. They also work with some of the best online casino game providers, so you can only expect to find the best. One should also mention that they have a live casino, in which casino games would be streamed with the dealer live. On the other hand, if you're looking to place bets on more traditional sports, Pinnacle got you covered. They have quite an extensive collection of betting markets, such as traditional sports betting, live sports betting and even virtual sports betting.
Pinnacle Esports Review Verdict
After weighing all the pros and cons of Pinnacle Esports, we can safely say that this company is possibly one of the most serious ones, making it one of the best esports betting websites. The User Experience of using their platform is easy; the Pinnacle Esports odds have a high value compared to others; every major esports game is covered, they have valid gambling licencing, and more importantly, they are always there to help when you need them to.