GG.bet launched in 2016 with its headquarters located in Curacao. It is an exclusive website focused on offering a unique esports betting experience, while financially contributing to support your favourite professional esports teams. Something that makes GG.bet stand out when compared to other betting sites, is the team contributions option, where you can show your support for your favourite squad by placing your wagers. GG.bet pays out the teams 1% or the special bonus rate of 5% from all the bets placed on every successful match, thanks to the bettors.
This idea helps motivate the esports teams to reach their full potential in the virtual sport. The payout figures are shown on the site that will give you a clue which squad is most favoured among bettors.
Is GG.BET legal? GG.BET's legality and licence
GGbet is currently one of the leading and trusted online bookmakers. While holding the reputable Curacao Gaming Licence, they also feature high-security software, such as McAfee Secure, to make sure that the users' personal data is kept confidential. GGbet considers online safety a top priority. In addition to McAfee's security software, they also ask for proof of identity and keep all the user details and money transactions accurate.
Every account in GGbet is kept classified and stored for everyone's security. Money transactions are also processed and protected to keep confidential information from being leaked online. Once your account is created, you can start by depositing money into your account and claiming a bonus!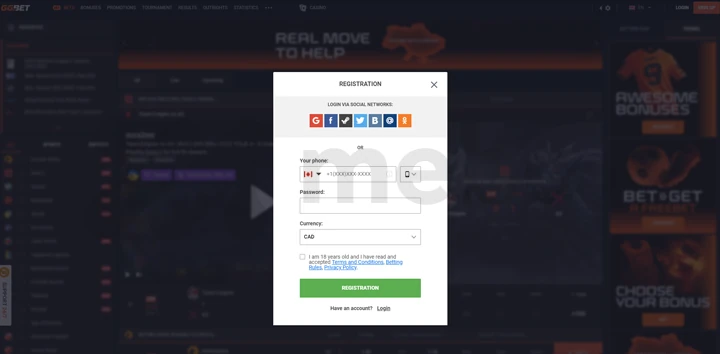 Games you can bet on at GG.BET
GGbet covers a wide variety of games – at least compared to your traditional online sportsbook – from first-person shooters to MOBAs, and even RTS. If you're looking to bet on the biggest games, like CSGO and Dota 2, GGBet has got you covered, but it also has options like Tennis and King of Glory for those looking for more specific betting options.
Full list of games you can bet on with GG.BET
In-play (live) betting markets available on GG.BET
Esports' statistic growth rises all the time, and GGbet recognizes that varied esports betting markets are a good source of profit. GGbet covers plenty of in-play and live betting options for most of their games. In-play markets like 'first map winner' and others can be found easily on the website. GGbet has a friendly interface that makes everyone, even the newcomers, easily understand everything about their wagers. Most of the matches available on GGbet are also live-streamed on Twitch, so bettors can keep track of the events.
Types of wagers available via in-play/live betting at GG.BET
Match Winner
Handicap
Total Rounds
Winner of Pistol Round(s)
Specific Rounds (1,4,16, etc)
Odd or Even # of Rounds
Match Winner
Map Winner
First Blood
First to 10 kills
Odd/Even kills
Total Kills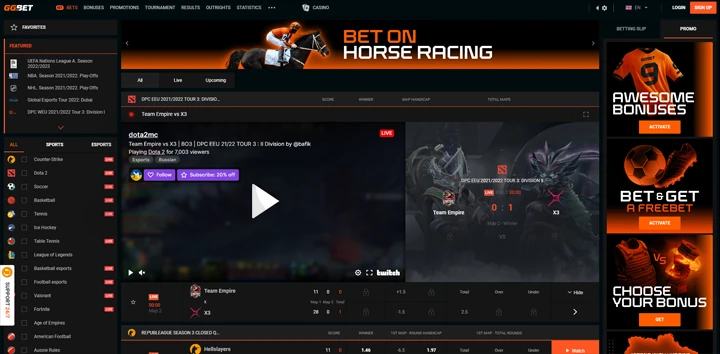 GG.BET's payment methods
Payment methods are an essential aspect of betting. It is vital to be sure that you can make secure transactions – not only you'll be able to make safe payments and cash out and make sure that your information is safe. In GGbet, they partnered with the most trusted payment gateways, so your transactions are in safe hands.
More payment gateways are being added over the years, and some might prove more worthwhile depending on your country. You can transfer money via Visa or Mastercard, the most commonly used option. You can also make payments and cash out using many other means. The minimum amount you can deposit on GGbet is 1 USD, while the maximum amount you can withdraw is around 20000 USD.
Complete list of payment options at GG.BET
GG BET's customer support
If you entrust your hard-earned cash to a bookmaker, you want to know what you can expect from their customer support and how much help you can get whenever you need it. This is very important, especially if you are new to placing wagers on an esports event. Esports is still a growing industry, and, understandably, not everyone knows everything about it. It is essential to have a customer representative that is easily reachable anytime.
GGbet has comprehensive customer support. You have different ways to contact the team of representatives – be it through telephone, email, or live chat. GGbet has a telephone number you can call, which a representative will answer. If you are not comfortable making direct calls, you can use the live chat option, which is probably the most convenient way to get assistance as most queries are answered promptly. You can also contact customer service via email if you have more complicated issues. GGbet's customer service is available 24 hours a day, seven days a week, every day of the year.
Support methods available
Support methods available
Is GG.BET available in my country?
GG.Bet allows quite several countries to place esports bets on their website. There are, however, some significant exceptions. If you are living in any of the following countries, then you cannot bet on GGbet's website:
Australia
France and its territories
Hong Kong
Singapore
South Korea
United States and its territories
United Kingdom
GG.BET promotions & bonuses
Setting up an account with GGbet partners gives you access to limited and special offers to give you a head start on an exciting betting experience. GGbet promo codes and other promotions on their partner websites are applicable to be used by both new and old players.
GG.BET Bonus code -> MEBO Bonus code terms & conditions
Be sure to make use of our GGBet Bonus Code – MEBO. By making use of this code you will get a 100% deposit match. Below one can find out own GG.Bet bonus terms & conditions! Remember to always use the keyword MEBO to get a 100% deposit match and bet on your favourite games!
These rules apply to betting bonus funds. Details like promotion period, minimum deposit sum and bonus amount will be mentioned in the email communication or promotion pages
These Terms & Conditions apply to all betting bonuses unless specified otherwise
If a code is provided then it is valid only once when the promo code is entered before the minimum required deposit is made, and only to accounts with confirmed email address
Qualifying deposit should be made within 14 days after the GG.bet promo code is activated, otherwise the bonus will be expired
All betting bonuses come with wagering requirement of 14 times the credited amount within 14 days. If wagering requirements are not met any bonus and winnings from the bonus will be deducted from the balance
Qualifying bets for the wagering must be placed at odds of 1.75 or more and be settled, eligible type of the bets – Single
Bonus funds can be used for placing bets only in when there is no funds on the real balance
In case bets are made using both the bonus and real cash, the winnings will be awarded proportionately. GG.Bet bonus winnings will be added to bonus balance and winnings from cash to cash balance
In case a withdrawal is made before the wagering conditions are met, any bonus amount and winnings from the bonus will be reduced to zero
If a bet was made from the bonus balance which was subsequently won back (funds were converted to real funds), then further calculations will not be carried out on that bet.
The maximum winnings that can be cashed from any betting bonus are 100 USD, 100 EUR or 6000 RUB. The remaining amount will be deducted from the balance
All specific amounts can be requested by contacting customer services department. All credits are subject to conversion rates to USD and may affect the final amount credited
GG.Bet reserves the right to withdraw or suspend the promotion at any time or void the bonus balance, and winnings from the bonus amount
Any withdrawal request after this promotion code is used, could be subject to verification, failing which the request can be denied
Terms and conditions are subject to review and changes at the any time during the promotion
All winners are subject to review of their game play and any attempt to exploit or abuse the promotion will lead to disqualification
Only one bonus can be active and wagered simultaneously. Activating one bonus program, you automatically deactivate the previous active one.
On top of these bonuses, GGbet also has an affiliate program, where those with established websites can earn anywhere from 40-60% of a referral's betting revenue, by having them sign up using the affiliate link. This is a great opportunity for websites with a decent amount of traffic to earn money through GGbet and to help bettors find their site.
GG.BET mobile application – Android & iOS
GGbet is primarily dedicated to esports which make is so much easier to navigate around the interface. However, if you are into esports betting and prefer to place wagers through a mobile app, you will find GGbet disappointing. The esports facilitator does not offer a mobile app for betting, unfortunately. GGbet is a relatively young bookmaker so we can expect that this will change over time and hopefully, they will have a complete set of available bets on mobile. If you have no problems betting on the website through a browser, GG.bet will most definitely meet your esports betting needs.
 As we have mentioned earlier, GGbet's website was designed to be very user-friendly. The live betting on GGbet is easily understandable and offers a wide range of markets – making it a great choice for dedicated esports fans.
Does GG.BET offer traditional sportsbook and casino
As with a lot of online betting sites, football takes the main stage on GGbet's website, with many different betting opportunities available. Apart from esports betting, GGbet gives you the ability to also bet on traditional sports such as football, volleyball and basketball. If you're interested in some more niche sports, such as handball or snooker, GGbet offers odds on those as well. It's always nice to have options!
GGbet has one of the best online casinos of any esports betting website, with a wide variety of games to choose from. While they have the usual slots and tabletop games, they also offer virtual sports titles and roulette. All of these are easy to find, with well-labelled sections for each one and a section dedicated to their most popular games.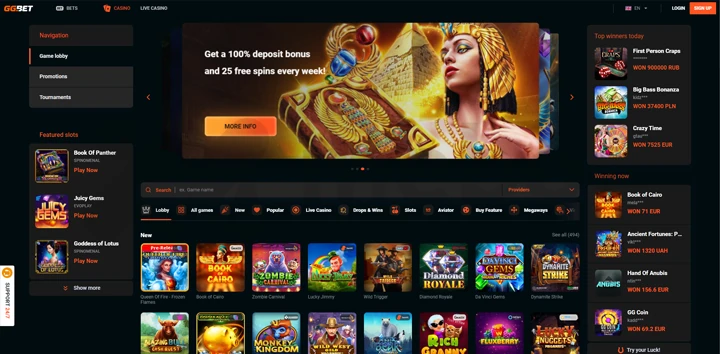 GG.BET review verdict
GGbet is one of the most well-known esports betting websites out there right now. It has a large variety of games to bet on and a reasonably decent selection of betting markets, with good odds to boot. One of the stand-out features of the site is that it also offers a good amount of traditional sportsbook betting and has one of the best online casinos on the market.
GGbet's primary focus is on esports, though, so while its sportsbook selection is decent, you are likely to have a more enjoyable time here if your focus is betting on competitive gaming tournaments. One significant improvement for the site would be a dedicated mobile app. However, considering that many other betting sites lack a betting app, most bettors will be used to using the web browser and won't find this much of a hindrance.
GGbet offers an excellent experience for any dedicated esports bettor with good odds, a decent selection of titles, and a grand online casino.