Cyber.bet is a reasonably new betting website, founded in 2018. They began as a site with an exclusive focus on esports, with secondary betting options available for football. Despite still being mainly centred on esports, they offer a multitude of sports to bet on and have a large number of betting options for their growing esports section, making them one of the best esports betting website.
Cyber.bet offers reliable betting services and an easy-to-use platform with live betting and live streaming features. They also have a strong affiliate program and plenty of other easily-accessible features for both new and experienced bettors.
Cyber.bet's platform can be viewed in four languages: English, Russian, Spanish and Portuguese. Apart from this, the site is elementary and makes betting easy. The games are displayed on the left, with the number of matches you can bet on right below the icon. This means that you don't see just the icons themselves, such as LoL or Dota 2. You can also see how many matches are available. And if you want to select the whole set of matches for all of the games, you can do so with ease.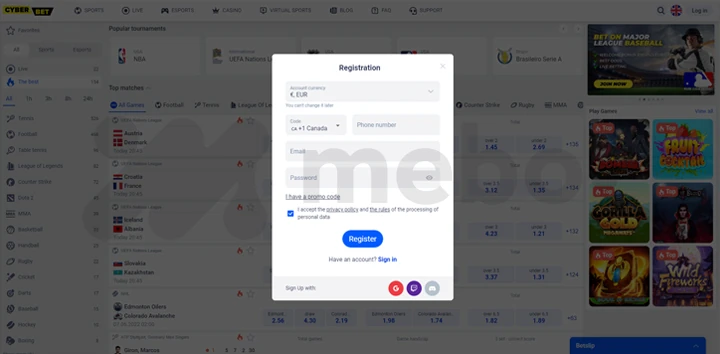 Is Cyber.bet legal? Legality and license regulations
In this day and age, when it comes to essential bookmakers such as Cyber bet, scams are a nonissue. Cyberbet has a Curacao license and is fully compliant with all gambling standards. The security of your transfers and your ability to withdraw your own money at any time you may choose is guaranteed. Everything is regulated, and no severe operator would risk their license and reputation to scam a client.
Games you can bet on at Cyber.bet
Cyber.bet offers a wide variety of games, from MOBAs like Dota 2 and League of Legends, to FPS titles such as Call of Duty and Overwatch. If you want to bet on any of the major titles in the competitive scene right now, you are covered.
In-play offerings and markets on Cyber.bet
Cyber.bet offers you one more feature that can be extremely valuable for serious and casual bettors alike, which is live betting. In other words, you don't have to make the decision ahead of the match. Instead, you can just prepare as best as possible and then check your analysis against the live-action to determine if you were correct in your assessment. And as soon as you know that team A is much more likely to win the game than team B, you can make your final decision and place a bet on it.
Live betting is also fun and advantageous if you know a great deal about a game and its professional teams. That knowledge allows you to read patterns during a match and simply understand that a team's fate is doomed much earlier than the final gg call. Because you've seen that situation before, and you know how it will unfold, regardless of appearances.
One thing that is slightly odd about Cyber bet is that their website does not make it evident that live betting is available. Finding live matches can be tricky, as there is no separate area for them on the site, and this can make betting on live games a bit of a convoluted process. Having said that, Cyber.bet does have good betting options, along with embedded live broadcasts to make your betting simpler.
Types of wagers available via in-play betting at Cyber.Bet
Cyberbet offers specific betting options for CS:GO and its MOBA titles, League of Legends and Dota 2; for every game on the site, you can only bet on the winner. Below are some examples of bets offered for CS:GO and MOBAs:
Moba markets:
Match Results
Handicap
Asian Handicap
Total Games Over/Under
First Tower
First Blood
First Roshan
First Barracks
Game Winner
First Baron
Map Winner
Kills Total Over/Under
CS:GO markets:
Match Winner
Handicap
Map Winner
Game Winner
The outcome of a certain part of the match
Game total Over/Under
Odd / even kills on the map or game
Total by rounds Over/Under
Asian Handicap
Round Winner
Total by Rounds Over/Under
Total Kills
First Kill
Overtime
Cyber.Bet's payment methods
Like other top esports betting sites, Cyber.bet offers multiple payment options. You can deposit or withdraw money at any given time and unlike other esports betting sites, Cyber.bet does not impose a limit on how much you can withdraw per month. They are a website that explicitly deals with cash betting, so don't expect to be able to use bitcoin or an in-house currency system to make your bets.
This means that if you're a hardcore bettor and are capable of making thousands or even tens of thousands of dollars per month, you're free to use your skills to maximum capacity without any restraint. The minimum deposit amount is 5USD/5EUR/5GBP.
Cyber.bet esports' customer support
Something that's nice for new bettors is that Cyber.bet has a great website that covers all the basics. A useful FAQ will help new users get acquainted with the website and start betting quickly. They also offer live chat support that is available 24/7, and while the wait times can be a little longer on occasion for a response, the availability of live chat is still excellent. You can also send queries to Cyber.bet via email if your issue is less urgent or call their dedicated hotline for support.
Support methods available
Social media accounts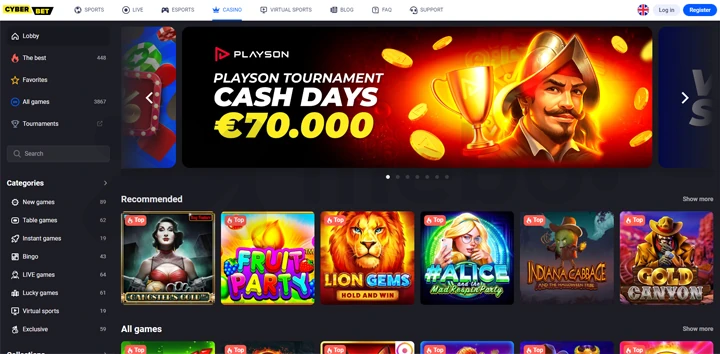 Is Cyber.bet available in my country?
Cyber.net has a far reach for countries that can bet on their website. There are some reasonably major exceptions. If you are located in any of the following countries, you cannot bet on Cyber bet's site:
Cyprus
France
United Kingdom
Israel
Iran
Korea
Latvia
Netherlands
USA
Cyber.bet bonuses & promotional offers
Cyber.bet has a great initial bonus for new users, with a €10 risk-free bet when making a deposit of €10 or more. There are some conditions to this offer. The bet has to be made on single wagers with 1.50 odds or more and is only valid for 14 days after the initial €10 deposit is completed; you also have to bet your winnings 5 times before withdrawing the funds.
This may sound stringent, but it seems to mostly be in place so that you can't simply take the €10 you're given and withdraw it immediately. The offer is still stellar for those new to the site and want to bolster their account with a bit of extra cash.
Cyber.bet mobile application – Android & iOS
While the Cyber.bet app is not available on the IOS or Android store, if you have an Android phone, you can download the mobile app directly from the Cyber bet website and utilise its full betting features. Unfortunately, one of the significant drawbacks of Cyberbet is its lack of an IOS version for download. This means that if you have an iPhone or Ipad, you will have to use the mobile version of the website instead, which can be an inconvenient way to bet.
Luckily, Cyber.bet's Android app reflects the features of the website very well. All of the available promotions and payment options are available on the app, and there are live streams you can watch on the go. There is a blog with tips and updates, and you can easily access your bets without the need for a mobile login.
Does Cyber.bet offer traditional sportsbook and casino?
While Cyber bet's primary focus is on esports, and they have great CS:GO betting odds, they offer betting on traditional sports, such as hockey, tennis and the NBA. The widest variety of betting options they have is for football, offering bets on all major leagues, including Premier League, La Liga, Bundesliga and Serie A.
Unfortunately, Cyber.bet does not offer only casino games, as their primary focus is on esports and sportsbook betting. As they are a newer betting site, it is possible that casino-style games could be added in the future.
Cyber.bet review verdict
Although Cyberbet is one of the newer betting sites, it still offers a great selection of games to bet on. If you are an esports bettor, then the Cyberbet website's simple interface and specific live-betting options for CS:GO, and MOBAs will be a big draw. Their sportsbook options for traditional sports are also fantastic. If you're a football fan, you'll get a lot out of their website, as it has a lot to offer in league betting.
The lack of traditional casino games may be an issue for some, but the breadth of betting options across Cyber.bet should more than makeup for it if you are invested in online betting services.