BLAST Premier Betting Guide
BLAST Premier is one of the newest series in CS:GO. It started in Spring 2020, and since then, it has grown into a monster. Each edition features excellent CS:GO betting opportunities, and you can learn a bit about them in this BLAST Premier Betting Guide.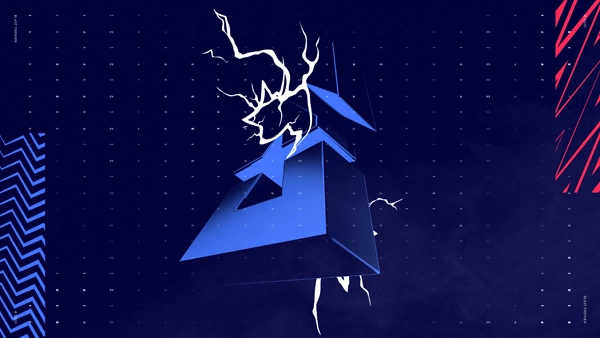 BLAST Premier Betting Odds
Before every edition of BLAST Premier, esports betting sites give you a wide array of CS:GO betting opportunities.
BLAST Premier Betting Sites
Are you looking for esports betting sites that offer odds on BLAST Premier Series? Check out one of our trusted partners from the list below!
BLAST Premier Betting Markets
The advantage of being a CS:GO bettor is that you can specialize and find a niche for yourself these days. Betting on CS:GO is no longer a basic thing like it was some years ago when you could only bet on who will win the match and were required to do it before the match began. Now you can engage in live betting and place esports bets on everything you can imagine.
For example, you can pick the winner of the first map. Or the minimum amount of rounds it will have. Or the winner of the pistol rounds. And so on. There are a dozen different BLAST Premier betting markets for each match, and this variety rewards in-depth knowledge of the game and its professional scene.
If you study a team thoroughly and know how strong it is on a particular map, you can simply wait for them to pick that map in a match and place a targeted bet with a high probability of success. You'll be surprised how often the top esports betting sites don't factor in crucial information that proves to be decisive in determining the winner.
BLAST Premier Betting Bonuses
Because BLAST Premier tournaments are a key pillar of CS:GO's professional circuit, esports betting sites will occasionally make it even more appealing to bet on them with different bonuses. These bonuses are specific to each bookmaker, so you will need to keep an eye on the top esports betting sites before BLAST Premier events.
Meanwhile, if you're interested in bonuses, you could simply sign up and get a welcome bonus on your first deposit. The best bookmakers usually double your money, up to around 100 Euro. Check out the CS:GO betting bonus section in our CS:GO page if to see what's available out there.
---
BLAST Premier Format
The competitive format of BLAST Premier can be one of 4 types, because BLAST Premier events depend upon each other and are of different levels of importance. The organizer practically designed its own professional circuit inside of CS:GO. So if you win a small event you go to a bigger one. And if you do well there you get points that help you qualify for an even bigger one. Here are the main types of BLAST Premier tournaments.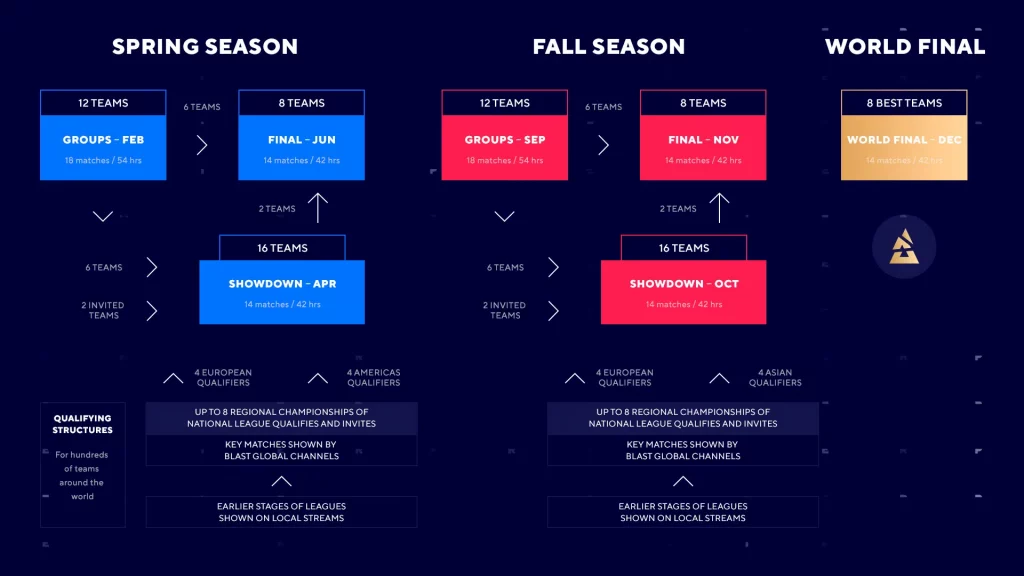 BLAST Premier Sprint Groups
This is BLAST Premier's entry-level event. Its competitive format consists of 3 groups of 4 teams. Each group is an autonomous tournament and uses the double-elimination format. The top 6 teams (or the 6 Grand Finalists of the groups) go to the Spring Finals. The 6 remaining teams go to Spring Showdown, which is basically a second chance for those who didn't succeed. Every match is Bo3.
BLAST Premier Sprint Showdown
The BLAST Premier Spring Showdown features a total of 16 teams, many of which come from various qualifiers. Some are directly invited and 6 of them come from Spring Groups. The winners of this tournament qualify for the Spring Finals. I say winners and not winner because the event divides the teams into two independent brackets, which are practically groups of 8 teams. Each group consists of a single-elimination tournament. All matches are Bo3.
BLAST Premier Sprint Finals
This is the long-awaited event that ends the Spring Season of BLAST Premier. Its prize pool is substantial ($425,000) and the winner qualifies directly for the BLAST Premier World Final, which is a $1 million tournament.
BLAST Premier Spring Finals features 8 teams and uses a double-elimination format. Everyone starts in the Upper Bracket. The match format is Bo3.
BLAST Premier World Finals
Just like the Spring Finals and the Autumn Finals, BLAST Premier World Finals features 8 teams. These teams are the champions of important tournaments such as ESL Pro League and the Majors. They also come from the BLAST Premier leaderboard.
The competitive format here is double-elimination. All matches are Bo3.
---
BLAST Premier History
The first BLAST Premier event took place in 2020 and was won by FaZe Clan. In the same year, Na'Vi won the Global Final. At the time of this writing, we're headed for the Fall Season (2021). The Spring season was won by Gambit Esports.