Call Of Duty League (CDL 2021)
After what can be deemed as a considerably long off-season, the Call of Duty League is ready to get underway with its second official season. And with the start of a new season comes loads of CDL Betting opportunities, as the CDL Odds are more likely to be profitable at the start of a season. The league was founded in 2020 and hosted its inaugural season, which was impacted by the COVID-19 global pandemic in the first half of the season, forcing the remainder of the league to be played out online.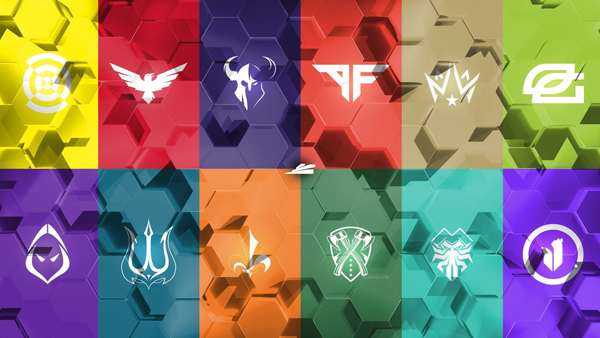 Despite this, the first official season of the Call of Duty League was largely deemed a success. After feedback from franchisees and players, there were considerable changes put in place for Season 2. This includes a format change for the Home Series events, and also a transition from 5-vs-5 to 4-vs-4, which ultimately led to a roster mania of sorts.
Call Of Duty League 2021 Season Format
Last season there was a big opening event in Minnesota to celebrate the launch of the new franchised league, and then it transitioned into Home Series events that were held in the hosting franchises city, with 10 of the 12 teams attending to compete. This model was appreciated and created many storylines with that home crowd fan feel that esports was lacking.
However, COVID-19 pushed the events to be online and stripped away that Home Series feel. The new format change means Home Series will still exist, and for the time being, be online, but all 12 teams in the league will now compete at each week of the league. Season 2 is split across 5 stages, with each stage featuring 3 weeks of league action with a major event acting as the finale. So across the span of the season, there will be 20 weeks of Call of Duty action, 15 of those are normal weeks of league play, with 5 being major events.
Below is a full breakdown of the upcoming Call of Duty League Season 2.
Stage 1
Week 1 – Atlanta Faze Home Series (February 11th)
Week 2 – Call of Duty League Home Series (February 18th)
Week 3 – Call of Duty League Home Series (February 25)
Stage 1 Major (March 1st)
Stage 2
Week 4 – Toronto Ultra Home Series (March 18th)
Week 5 – Call of Duty League Home Series (March 25th)
Week 6 – Los Angeles Guerrillas Home Series (April 1st)
Stage 2 Major (April 5th)
Stage 3
Week 7 – London Royal Ravens Home Series (April 22nd)
Week 8 – Paris Legion Home Series (April 29th)
Week 9 – Dallas Empire Home Series (May 6th)
Stage 3 Major (May 10th)
Stage 4
Week 10 – OpTic Chicago Home Series (May 27th)
Week 11 – Florida Mutineers Home Series (June 3rd)
Week 12 – Los Angeles Thieves Home Series (June 10th)
Stage 4 Major (June 14th)
Stage 5
Week 13 – Seattle Surge Home Series (July 1st)
Week 14 – New York Subliners Home Series (July 8th)
Week 15 – Minnesota Rokkr Home Series (July 15th)
Stage 5 Major (July 19th)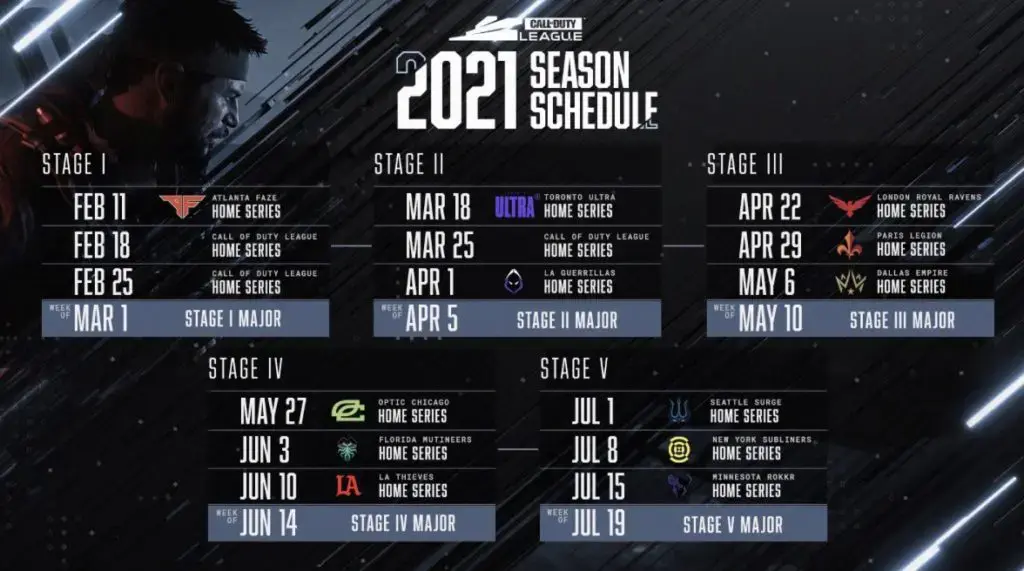 We imagine that there will be the return of the annual world championship at some point after the Stage 5 Major. The Call of Duty Championship has become a true staple in esports, and typically gets announced during the early part of the season. It's possible the league is holding off on an official announcement for this finale, whilst they review the possible ways to host the event during the ongoing global pandemic.
Call Of Duty League Franchise Teams Competing
As mentioned, there are twelve franchise teams in the CDL. They have been mentioned above in the 2021 season format, but for clarification, below is a full list of the official CDL franchises for season 2.
Atalanta FaZe
In the inaugural season, the Atalanta FaZe franchise had a hugely successful season, winning 2 Home Series events and finishing 2nd at the Call of Duty League Championship 2020 taking home $900,000. They will without a doubt be ready for and pushing to come out on top this year.
Dallas Empire
Here we have last year's champions, the Dallas Empire. They defeated Atlanta Faze in the grand final of the Championship, and also picked up 3 Home Series wins. With the move to 4 vs 4, they had to release Clayster from the roster, so it will be interesting to see if they can defend their title.
Florida Mutineers
The Florida Mutineers had an incredibly turbulent run in the inaugural season of the CDL. The team finally got on track in the latter half of the season, winning a Home Series but then slipped again at the Championships and only finished 7th-8th. They'll be hoping to secure more stability this season.
London Royal Ravens
I think it's fair to say that the majority of the community wanted to see this team pick up at least one Home Series victory. They were that team that were easy to love and never quite managed to go the whole way. A 4th place finish at Champs was a great way to end the season though, and the London Royal Ravens will be primed and ready to make that push again this season.
Los Angeles Guerillas
This LA franchise had an utterly miserable season, that was plagued with roster changes and uncertainty. Heading into the 2021 Call of Duty League season, only one player from their 5 man roster at Champs is returning to the renewed 4 man team. On paper, this season should be considerably more successful for the Los Angeles Guerrillas.
Los Angeles Thieves
Quite possibly the most exciting development of the offseason was Nadeshot's, 100 Thieves, getting back into Call of Duty esports. After months of speculation and deals with Los Angeles OpTic Gaming and Chicago Huntsmen, according changes resulted in this premium name of the Los Angeles Thieves being able to make a return. They will be gunning for top finishes and multiple victories all season long.
Minnesota RØKKR
There was such a positive start for Minnesota at the beginning of the 2020 season. Whilst they weren't expected to pull off regular big successes, it was predicted that the Minnesota ROKKR manage to stick it out with the top dogs all season. Unfortunately, they just continued to slip and get progressively worse, which resulted in a 9th-10th place finish out of 12 teams at the Call of Duty League Championship last season.
New York Subliners
We mentioned Clayster getting released by Dallas Empire, and he was quickly swept up by New York Subliners, possibly one of the best roster additions possible in the league. For the majority of the season, they were a mid-table team, occasionally jumping into top 4 in results and eventually won their own Home Series. The roster changes have set them up for increased success this season.
Optic Chicago
Formally known as the Chicago Huntsmen, once Hector 'H3CZ' Rodriguez bought back the OpTic brand, one of the biggest pieces of news during the offseason, he was able to sell that franchise to his close friend Matthew 'Nadeshot' Haag, which became the Los Angeles Thieves. This also meant he could then use the OpTic branding for his Chicago franchise, meaning true staples of Call of Duty esports had returned in the form of OpTic Chicago.
Paris Legion
If you're a fan of Paris, you could be in for a tough season. The inaugural 2020 season wasn't impressive by any means. They somehow clutched up a 2nd place finish in Week 12 at the London Home Series, but outside of that, were at the bottom of the ranking consistently all season. The Paris Legion also had a period in the offseason, with making no moves at all for a roster, so it could very well be another inconsistent and disappointing season for the franchise.
Seattle Surge
Seattle fans will want to forget that last season even existed. The highlight of the season was a 3rd-4th place finish at the Week 6 Chicago Home Series and outside of that, there was nothing to write home about. The Seattle Surge franchise made considerable changes and improvements to the roster in the off-season, so it looks to be a more fruitful season in 2021.
Toronto Ultra
Toronto were the only franchise to make use of the large roster availability in the inaugural season, having 10 players in total. Whilst overall their team struggled to get things clicking on a regular basis at the beginning of the season, a 3rd-4th place finish at a Home Series event and winning their own Home Series event in Week 13, rejuvenated the potential. It appears that the Toronto Ultra have found a recipe for their roster, and we look forward to seeing how it progresses this season.
It's worth noting that this will be the debut season for the Los Angeles Thieves (owned by 100 Thieves), who took over the OpTic Gaming Los Angeles franchise, with the OpTic branding replacing the Chicago Huntsmen name from last season. There are a lot of ties and storyline potential between these two franchises, and it should be exciting to watch them battle it out this season.
CDL Betting Guide
With the simplicity of Call of Duty Esports, when you compare it to more intricate titles like League of Legends, Dota 2, etc, it can be a fairly simple esport game to follow, and therefore place bets on regardless of your betting experience in the past. It is friendly to both new and experienced bettors. Regardless of your experience, the following information should help you on your way, including how to find some of the best CDL odds out there.
The full league schedule has been mentioned at the beginning, so you can use that as a reference point to keep track of what events are coming up as the season progresses. With the games being played out online this year, the results have the potential to vary slightly more than they normally would at a physical LAN event. Additionally, there is no home advantage or fan advantage in general for teams to feed off. This means it's more important than ever to properly keep on top of what's happening in the league, we recommend watching as many of the streams or VODs (Video on Demand) on YouTube as you can. Check out our additional CDL betting guide information below
CDL Betting Tips
The above were some tips to help increase your CDL betting odds, but there are still some extra general Call of Duty betting tips that are worthwhile following.
Play Call of Duty yourself. It's all very well watching and analysing the results of the league matches, but just playing the game on a somewhat regular basis, gives you that extra level of insight that could help when it comes to in-play bets.
Never bet on a team purely based on the league standings. Analysis of recent results and their head to head records. A team could be top of the league but have a bogey team that they constantly struggle against.
Following the teams results in practice (scrim). Keep in mind that teams will be testing new tactics so results might not always be truly representative, however, tracking them can help gauge your bets better.
Make sure to find the best Call Of Duty betting sites for you. Some operators offer great welcome bonuses, as well as live CDL betting, which could prove very lucrative.
Find the best esports betting odds. It might not look like much when you compare it once, but in volumes, those 0.1 differences in odds will add up in the long run.
We also tend to publish our very own CDL betting tips from time to time. Be sure to check back in whenever there is a Call Of Duty League weekend full of games as we will be undoubtedly be publishing our tips.
Call Of Duty League Betting Odds
There can be some very advantageous Call of Duty odds out there, especially if you make use of regular promotions from bookmakers. Whilst the majority of betting sites will have rather similar CDL odds on offer, if you bounce around a couple of your favourite bookmakers through the season, you should regularly find some ideal odds.
As with any sport or esports, the favourites will also have odds that don't provide much in regards to return. That's why it's worth looking into some alternative betting options that can help to boost your odds.
Series Handicaps – The Call of Duty League is played in a best of 5 format, handicaps provide teams with -1, -2, +1, or +2 handicaps and adjust the Call Of Duty League odds accordingly. So for example, if there's a clear favourite, and you think they should easily win 3-1, you can place a -1 handicap bet on them to help increase odds and in turn your overall return.
Individual map winners – There are three game modes played out across the best of 5 series. This is a reason why watching regularly can be an aid. If you follow the games and statistics and can identify a team's best game mode, for example, placing individual map winner bets on them can work very well. Some bookmakers will update the odds following the veto process, so we recommend keeping on top of things.
In-Depth statistical betting – You will find that betting websites will offer a different level of depth when it comes to the betting markets. Some may only offer outright odds, whilst others will allow you to place bets on the likes of who gets first kill, who wins the first round, how many kills there will be in total etc. Whilst this wouldn't be recommended as the main betting method, mixing it up with these bets every now and then can reap the rewards.